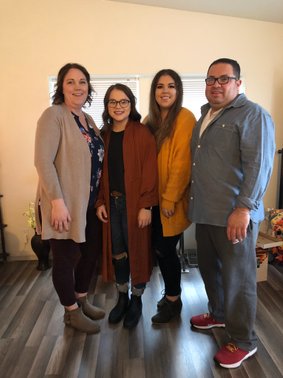 Bonnie lives in Prosser with her husband, Dan and their two daughters, Elsa and Emma. They have been marrried twenty four years. She is the Office Manager at the Covenant Presbyterian Church and Director for Kiddie Korner Preschool.
Miss Sheila is a wife and mother of seven. She has been married to her husband, Rod for almost twenty six years and they have raised seven children. One son is still in high school. Miss Sheila has been working with children most of her life. She has been in charge of Children's Ministries at church and homeschooled her children. They were involved in homeschool co-ops and many field trips.
Miss Sheila has been teaching at Kiddie Korner Preschool for 6 years and loves it!
Kiddie Korner is dedicated to working with children and families to best meet your child's needs.
Teacher - Sheila Stutzman
Kiddie Korner Preschool is a non-profit, non-religious, parent cooperative preschool (meaning that each student will have their parent volunteer as a helper in the classroom 3-4 times per semester). We have operated continuously since 1971 (46 YEARS) and are a registered non-profit corporation with the state of Washington. The school is managed by an all volunteer board and are completely funded by student tuition.
We balance opportunities to learn individually and in groups, both inside the classroom and through interaction with people, places and the environment outside the classroom. We participate in monthly field trips which are educational as well as super fun for the whole family!
Our curriculum is based on the best educational practice and attention to the whole child.
Our teacher is intentional in planning a daily schedule and rich curriculum that honors a child's individual needs and interests. The curriculum supports success and challenge at every level of development (cognitive, social, emotional and physical) and is integrated across disciplines (literacy, mathematics, science, social studies, music, art, creative movement).
We believe that 'play is child's work' and that children learn best through hands-on, process-based and meaningful work experiences.
Warm personal child-teacher relationships support our emphasis on helping children communicate effectively and grow in awareness, thoughtfulness and empathy for others.